The Demise and Fall of the Powell Silver Eagle Saxophone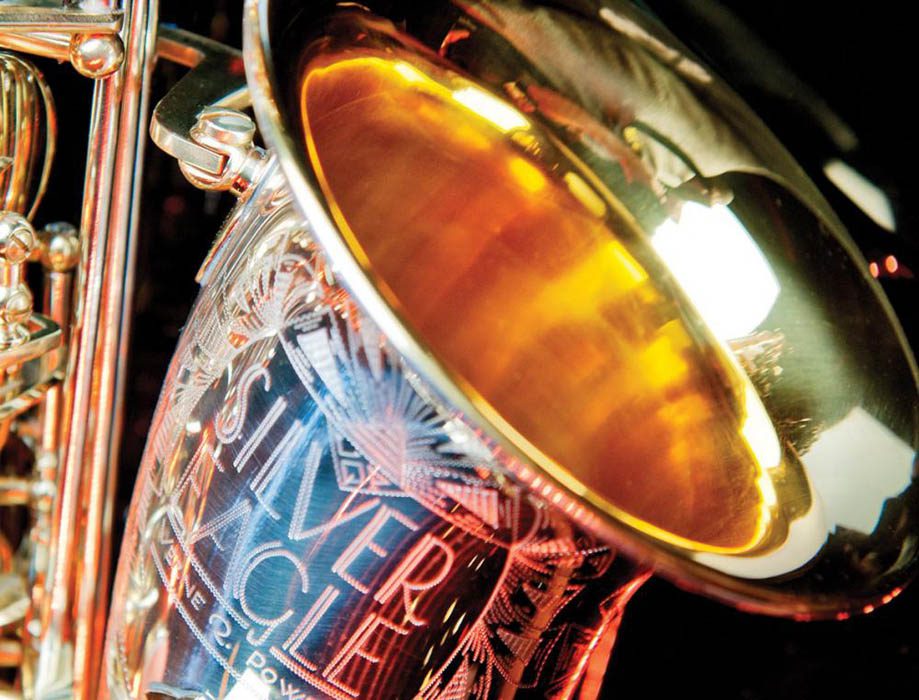 The Demise of the Powell Silver Eagle Saxophone
On September 23, 2010, Steven Wasser, the owner of Powell Flutes, announced that the company was going to be unveiling a new, saxophone. His statement to the press on that date promised "…the United States represents 50% of the world saxophone market, but none of the saxophones available for sale in the United States are made here. Wasser commented, "As far as we are concerned this represents a business opportunity. Our entire strategy is based on making great instruments in the United States. We think one of the positive effects of this recession will be that American consumers are going to pay much more attention to country of origin than they have in the past."
The designer of this saxophone was to be Mike Smith, a well known performer, long associated with Frank Sinatra Jr. Mike was to be assisted by Chris French and John Weir. The manufacturing was to be done at the old Blessing Band Instrument plant in Elkhart, Indiana, with some limited fabrication being done at the Powell flute factory. Mike promised that "The Silver Eagle Saxophone is a very high-end, very expensive saxophone. It is aimed at the select few players who have the means, and the desire, to own an American-made product with high QC standards." In addition to the alto model with sterling silver neck, bell, and tone hole chimneys, there was to be an all brass model, and ultimately, a tenor. Cryogenic treatment was also to be offered as an option.
First things first: I have known Mike Smith, who was sorta the ramrod behind this project, for many years. He's not only a world class musician, but also a really nice human being, who I am proud to call my friend. This project did not fail due to a lack of effort on Mike's part. He truly put his heart and soul into it. Another point I want to make right up front: although these horns would have been competitors for my products, our company absolutely welcomes any competitor who wants to actually innovate and "improve the breed"……this horn did have a few significant innovations, and it would have pleased me greatly for them to have succeeded. One last disclosure: I never saw or played an actual example of the Powell Silver Eagle, but got reviews from people that I completely trust who had played the horn. The reviews about the playability were 100% positive. I did talk to Mike extensively as the project was developing, and have also discussed it with other saxophone industry "insiders" who shared some information with me which I'll take as accurate but have not verified myself.
THE CONCEPT As I understand it, the idea was to build a "Made In The USA" horn of super high quality. The basic design seemed to be an obvious tribute to the King Super 20 Silversonic, a horn that Mike Smith has used and admired for many years. Of course, Mike is not alone in his admiration of these horns, and he had some ideas that seem to take the initial design a little further down the Super 20 road. Even the color scheme of the cases provided with the Silver Eagle was identical to the Super 20. Look at the octave key on the neck, and the general engraving style: it all shouts "Super 20". The Silver Eagle, like the Super 20, also used post rather than ribbed construction, had the G key mounted on the left hand main stack, and even used pivot screws with locking nuts identical to those used by King on the Super 20. One of the design concepts was that in addition to a sterling silver neck and sterling silver bell, the horn was to have sterling silver tone hole chimneys braised onto the body tube. The neck and body tube were both promoted as being seamless, which would lead me to believe that they were extruded rather than braised. Assembly was to take place at the old Blessing Musical Instrument Company plant in Elkhart, Indiana, and all of the components were to be sourced in the USA. The Powell Company was rightfully world famous for their exquisite very high end flutes, and it was thought that since they were the corporate entity behind the project, this would add credibility. The pricing for the alto was set at a lofty $10,000 or so. I never thought the price was the problem for an instrument of this sort of obvious quality. A significant market exists at that price point. After all, my company has been successfully selling a $15,000 tenor saxophone, our Category Five model, for quite a few years. Multiple sources within the saxophone industry have told me that the break even point required the sale of 130 units in the first year, which I always thought was an extremely ambitious goal.
THE PROBLEMS Alas, there are several things that I believe may have well doomed this project from the outset. Individually they may not have dissuaded many buyers, but collectively, they made success very difficult, if not impossible. Rather than tool up for the entire horn, Powell elected to purchase existing tooling for the keywork and other components from Gerhardt Meinal, the owner of the B & S Company in Germany, who had left the saxophone business over five years ago. Tooling of this nature doesn't really wear out, and is extremely expensive to construct. The B & S saxophone enjoyed an excellent reputation (although sales were poor), and several knowledgeable technicians and players have reported to me that the Silver Eagle felt "Just like a B & S Medusa"….which is maybe not such a bad thing. It's just not very original. Although Powell enjoyed the best possible reputation for their flutes, they had no reputation in the saxophone business. Speaking as someone who has been a party to starting several saxophone brands "from scratch", I can absolutely promise you that "it ain't easy"…..Saxophone players and flautists are two entirely different species, and the status on a company in one field does not carry over to the other. After all, the H. Selmer (Paris) company had to leave the flute business a while back, in spite of an excellent product, a well known brand name, and a well established dealer network. The marketing of the Silver Eagle trumpeted the fact that it was "Made In the USA", when in fact, the pads and resonators were sourced from the Pisoni company in Italy. This was done in spite of the fact that there are several pad manufacturers located in the United States who could easily have provided an equivalent, if not superior, pad. This is a pretty significant issue for the many saxophonists who consider the pads and resonators to be key components. The Silver Eagle used braised rather than drawn tone holes. I am unaware of any other modern saxophone maker using this technique. Braising the toneholes is supposed to prevent stressing the body tube metal, resulting in greater resonance. I don't know whether this is true or not, and I am unaware of any studies by saxophone designers on this subject. I spoke with the designers for several major saxophone manufacturers, and none of them believed there was any advantage to braising. This technique, once used by several manufacturers, was completely abandoned by the industry by 1980. All the designers agreed completely on one point: braising on the tonehole chimneys was guaranteed to be a difficult and extremely expensive process as opposed to drawing the toneholes from the body in the conventional and accepted manner. In addition to the substantial cost of fabricating multiple tone hole sizes and then braising them to the body, there was one more tonehole issue: they were to be made of sterling silver. Insofar as I know, there have never been saxophones manufactured with brass bodies and sterling silver tonehole chimneys. Quite a few people expressed skepticism to me about the acoustic merit of this comment. I don't know, as I have never tried it. Powell seemed to consider these silver tone hole chimneys to be a key selling point, but never provided any meaningful data to establish that this concept had acoustic merit. Probably the biggest thing (IMHO) that the Silver Eagle had going against it is the obvious linage as a "Super 20 Tribute Horn". On the surface, this sounds like a good idea, in that the Super 20 has long had a following even though production ceased over thirty years ago due to poor sales. Many players would probably like to own a Super 20, and therein lies the rub: there are plenty of them on the market, and you can almost certainly purchase the very finest example available anywhere in the world for considerably less than the asking price for a Powell Silver Eagle. A problem that invariably plagues "reissues" is that it's always yesterdays technology that is being offered. Nostalgia certainly might play a part in the purchase decision of some, but a nostalgic reissue will always be a tough sale against the original article, particularly if the reissue is priced significantly higher. Many players expect products at the upper end of the market to be the current state of the art. If you are going to try to win the Indianapolis 500, you probably won't have a lot of success with a fifty year old race car. While it is true that the Powell Silver Eagle did offer the player a few ergonomic improvements over the Super 20, upon close examination it is obvious that these were the direct result of the use of the B & S saxophone tooling as opposed to any true innovation on the part of Powell. There were a couple of other minor controversies, or at least rumors surrounding the Silver Eagle. It was reported by numerous industry figures that the exact same horns with the exact same serial numbers were always the ones exhibited at trade shows, raising the question as to whether or not any more actually existed. It was said that padding and assembly had been moved out of the actual factory in Elkhart, Indiana to a small town repair shop, and that the assembly was actually being performed by subcontractors who lacked actual manufacturing experience rather than by Powell personnel. I don't know if any of this is true or not, as I wasn't there. I do know that outsourced assembly is unheard of in the world of high end saxophones, and that the rumor of assembly by a small repair shop was frequently discussed and questioned by saxophone industry "insiders". When Powell pulled the plug, "the word" within the saxophone industry was that they had only actually delivered 20 horns to dealers instead of the 130 that were needed to "break even". Of course the delivery to dealers does not constitute actual sales to end users. It is also widely rumored that Powell was losing a significant amount of money on each horn, as there were enormous cost over runs. I don't know if any of this is true or not, as I wasn't there. Interestingly, although the official Silver Eagle website had a "placeholder" for a list of dealers, none were ever named or added to the website. I also have never spoken to anyone who professed to have seen 20 completed Silver Eagles in one place at one time. What I do know is this: It's a damn shame that this didn't work out as Mike Smith had envisioned. I for one would be happy to see the saxophone manufacturing industry return to the USA. Currently, no saxophones are built in the USA simply because you can't get the work done here. It's not about labor costs (labor rates are significantly higher in Europe and Japan), but a simple lack of the resources necessary to construct and market a quality horn in the United States. Here's hoping that Mike Smith won't become too discouraged and will try this again. He deserves success. Here's Mike's statement from February 22, 2014 "I want to personally thank everyone who has been so supportive of this project. To set the record straight. We had the orders, We had the quality and an incredible team of talented people making this horn. My problem was I wasn't able to produce a $10,000.00 saxophone. The margin just wasn't there. Production delays killed me. Outside US venders whose lead times were never met because my orders were so small. Over 20 Labor hours for making the tone holes as opposed to 4 minutes to pull them. The bottom line was everyone we made lost money. We built about 20 horns and had orders for 35 this year. The interest was there and everyone who played it gave me positive feedback. The sound was rich with color and had great intonation. It wasn't just a" tribute horn." I don't think Sterling silver tone holes on a brass body had ever been done before. I tried to make a hybrid horn. Vintage /modern. American style acoustics, offset right hand, unique neck taper was tested with over 25 different mouthpieces. I could have built this offshore and It probably would have been profitable. There are many fine instruments built this way today. I just wanted to make a horn in the States. Unlike the totally fraudulent King Super 21, the Powell Silver Eagle actually existed. United Musical Instruments, which owned the King brand name produced six Armstrong (they also owned that brand name) Model 3000 alto saxophones in a different finish which were engraved King Super 21 and exhibited them at various trade shows claiming that they were an entirely new model, rather than the rebranded student model that they actually were. Nobody has ever questioned Mike Smith's integrity or his total commitment to the Silver Eagle project. I personally hope that Mike will be able to resurrect this project and bring it to fruition. I am anxious to see how many of these horns will actually surface, and how much they will bring on the resale market. They may well be destined to become one of those saxophone rarities that are much discussed but rarely seen outside of the hands of a very few collectors.
SINCE THIS ARTICLE WAS ORIGINALLY PUBLISHED
I was given the opportunity to purchase the tooling and a substantial amount of keywork and parts. All of the tooling had originally been purchased from the B&S company in Germany, owned by my friend Gerhard Meinel. When I worked for Orpheus Music, we were the distributors for B&S saxophones, and I am extremely familiar with them. THE TOOLING WAS FOR THE B&S "MEDUSA" MODEL, and was absolutely not unique to the Powell Silver Eagle in any way, form, or fashion. Any claim to the contrary is simply a lie. The keywork and parts were all for the B&S Medusa.